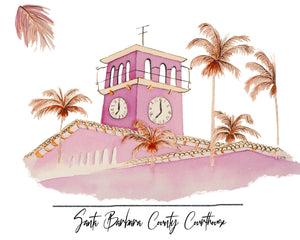 Santa Barbara County Courthouse
Painted with California Wines;
California Roots
Grassini Family Vineyards



The iconic Santa Barbara landmark. 
The Courthouse has been called the most beautiful government building in America.  Designed by William Mooser III, the Spanish-Moorish style building was completed in 1929. Visitors can ride an elevator to the 85-foot "El Mirador" clock tower for unforgettable views of the city, coast and mountains. Other attractions include the Mural Room, "Spirit of the Ocean" fountain, noteworthy architecture and ornate tile work throughout the building.
Made with wine and ink
Each wine is different and oxidizes at a different pace. Each painting is photographed after the painting is complete to capture their true colors before they start changing. A painting will continue to change colors over time as it continues to oxidize, this makes it a living & breathing piece of art. 

A wide range of colors can be extracted from wine depending on the processing or painting methods used. Either straight from the bottle, fermented in a container or evaporated sludge from an open container, wine painting can be very complex or very simple. 
Watch paintings come to life on video:
Instagram: @DanielleRenee.Art
Facebook: @DanielleReneeWineArt