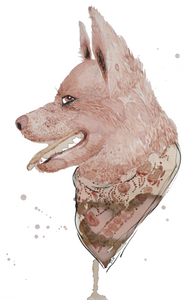 Farm Pup
Casa du Metz Winery Feminist Party
Dana Volk Wines Pinot Noir
Folded Hills Winery Grenache
Sanford Winery Syrah


This happy pup is wearing his lucky bandana and ready to go. Painted with a mixture of several wines most of them aged or mostly evaporated pigments. Multiple layers created fur-like texture on the face especially. Pools of wine created a feathered tie-dye look in the bandana. Black ink was used to accentuate the design. 
Made with wine and ink
Each wine is different and oxidizes at a different pace. Each painting is photographed after the painting is complete to capture their true colors before they start changing. A painting will continue to change colors over time as it continues to oxidize, this makes it a living & breathing piece of art. 

A wide range of colors can be extracted from wine depending on the processing or painting methods used. Either straight from the bottle, fermented in a container or evaporated sludge from an open container, wine painting can be very complex or very simple. 
Watch paintings come to life on video:
Instagram: @DanielleReneeArt
Facebook: @DanielleReneeWineArt