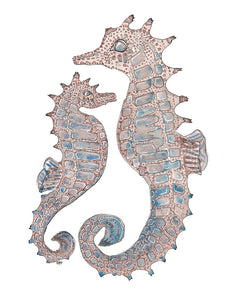 Sea Horses
Sea Horses
Jamie Slone Wines - P1 Red Blend
Blue Watercolor
Black Ink
 
This duo is painted with only one wine and by only using a layering technique instead of manually aging the wine for various colors. By layering the wine the detail work is a bit more subtle and soft than using aged or evaporated wine that is highly pigmented colors. Touched with blue watercolors as an accent and ink to further define their texture. The artists animation background shows a little more in this design adding whimsical and playful feel. 

Each wine is different and oxidizes at a different pace. Each painting is photographed after the painting is complete to capture their true colors before they start changing. A painting will continue to change colors over time as it continues to oxidize, this makes it a living & breathing piece of art. 

A wide range of colors can be extracted from wine depending on the processing or painting methods used. Either straight from the bottle, fermented in a container or evaporated sludge from an open container, wine painting can be very complex or very simple. 
Watch paintings come to life on video:
Instagram: @DanielleReneeArt
Facebook: @DanielleReneeWineArt