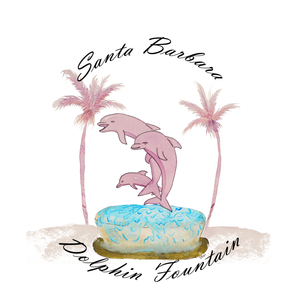 Dolphin Fountain
Painted with California Wines;
California Roots
Grassini Family Vineyards



The iconic Santa Barbara landmark. 
The Dolphin Fountain is an eye-catching fountain located at the oceanfront in Santa Barbara by locally-renowned Santa Barbara artist James "Bud" Bottoms. His iconic Dolphin Family sculpture is installed it at the base of Stearns Wharf in downtown Santa Barbara. Bud was an internationally-known sculptor, artist, and environmental activist.
Made with wine and ink
Each wine is different and oxidizes at a different pace. Each painting is photographed after the painting is complete to capture their true colors before they start changing. A painting will continue to change colors over time as it continues to oxidize, this makes it a living & breathing piece of art. 

A wide range of colors can be extracted from wine depending on the processing or painting methods used. Either straight from the bottle, fermented in a container or evaporated sludge from an open container, wine painting can be very complex or very simple. 
Watch paintings come to life on video:
Instagram: @DanielleRenee.Art
Facebook: @DanielleReneeWineArt