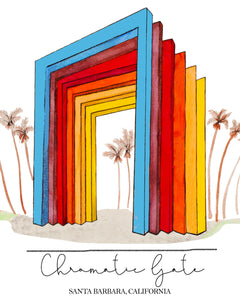 Chromatic Gate
Painted with California Wines;
California Roots
Grassini Family Vineyards



The iconic Santa Barbara landmark. 
The Chromatic Gate was designed by renown Austrian-born artist, Herbert Bayer. In 1975 Bayer moved to the neighboring community of Montecito where his last 10 years were spent in our beautiful setting working on paintings and environmental projects. His name, years of life, and the artwork's name are displayed in front of the arch.
Made with wine, watercolor and ink
Each wine is different and oxidizes at a different pace. Each painting is photographed after the painting is complete to capture their true colors before they start changing. A painting will continue to change colors over time as it continues to oxidize, this makes it a living & breathing piece of art. 

A wide range of colors can be extracted from wine depending on the processing or painting methods used. Either straight from the bottle, fermented in a container or evaporated sludge from an open container, wine painting can be very complex or very simple. 
Watch paintings come to life on video:
Instagram: @DanielleRenee.Art
Facebook: @DanielleReneeWineArt