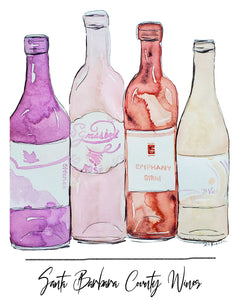 Bottle Line Up
Strange Wine Vineyards
Grassini Family Vineyards
Epiphany Cellars
Dana Volk Winery


Sipping delicious wine with friends in one of the most bountiful wine regions in the country. This painting calls to wine lovers of all varietals and looks beautiful printed on a wall or notecards.
Made with wine and ink
Each wine is different and oxidizes at a different pace. Each painting is photographed after the painting is complete to capture their true colors before they start changing. A painting will continue to change colors over time as it continues to oxidize, this makes it a living & breathing piece of art. 

A wide range of colors can be extracted from wine depending on the processing or painting methods used. Either straight from the bottle, fermented in a container or evaporated sludge from an open container, wine painting can be very complex or very simple. 
Watch paintings come to life on video:
Instagram: @DanielleRenee.Art
Facebook: @DanielleReneeWineArt