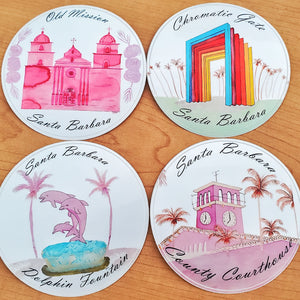 Santa Barbara Wine Art Sticker Pack
Santa Barbara Icons painted with local wine!
Each design includes local wine and two include watercolor pigments. 
Stickers are waterproof with a pearly white shine and are 3"x3"
Sticker Pack includes:
Mission Rose - Old Mission Santa Barbara
Chromatic Gate
Dolphin Fountain
Santa Barbara County Courthouse
*Individual stickers can be purchased separately on their respective product pages as well.